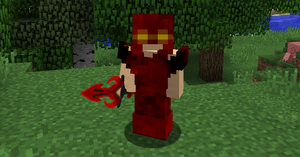 Description:
This is the fourth tier chestplate in the DragonRealm mod. It is an upgraded version of the Hunter Dragon Chestplate.

Upgrading:
This is the last tier of the DragonRealm chestplates and cannot be upgraded any further. You can repair it with Dragon Ingots in an anvil or by finding a Dragonsmith.

Debuff:
A debuff will be applied to you if you are holding this item without having first earned the Alpha Master achievement. The debuff is Mining Fatigue II and Slowness IV.

Stats:

Dragon Chestplate

Alpha

Dragon Chestplate

Durability
560
592
624
656
Toughness
2.5
3
3.5
4
Enchantability
25
30
35
40

Crafting Recipe:
NA